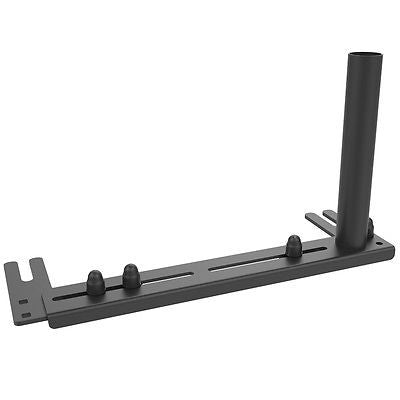 RAM-VB-196 Universal Adjustable No-Drill (tm) Laptop Mounting System Base
$ 8599

$ 85.99

Save $ 5.50
---
---
RAM-VB-196 Universal Adjustable No-Drill (tm) Laptop Mounting System Base
* SPECIAL NOTE: THIS MOUNT IS FOR FLAT SEAT BOLTS ONLY. YOU MUST CHECK YOUR SEAT BOLTS BEFORE PURCHASING. NO REFUNDS FOR FAILURE TO INSPECT SEAT BOLTS AND MEASURE CORRECTLY.
MUST BE UNOPENED AND UNUSED TO QUALIFY FOR RETURN


ITEMS TO CHECK:

1-ARE YOUR SEAT BOLTS FLAT?

2-ARE YOUR SEAT BOLTS BETWEEN 9 INCHES AND 18.875 INCHES APART (CENTER TO CENTER)?
Placement of Mount:
Passenger side floor board, in front of seat
Drilling Requirements:
No Drilling - uses existing seat bolts
Seat Configuration:
Bucket
Pole:
Lower Pole included with base
Material:
Powder Coated Steel
Features:
1. Custom, No-Drill™ mounting base offers lowest profile in the industry
2. Manufactured from high strength steel with a durable powder coat finish
3. If required, high quality fastening hardware is included
4. Mounts using existing seat bolts, no drilling required
Weight:
6 LBS
RAM® Universal No-DrillTM Laptop Mounting System Vehicle Compatibility Guide:
To determine if the RAM® Universal No-DrillTM Laptop Mounting System will install properly in your vehicle, carefully read and review the steps in this guide, while checking measurements in your vehicle.
1. Seat Bolt Orientation & Distance
Depending on your vehicle, you may install the RAM® Universal No-DrillTM Laptop Mount at one of these two seat bolt orientations on the passenger side:
Passenger Seat
Orientation A:
Front Seat Bolts
Orientation B:
Side Seat Bolts
Seat bolt range must have a center to center distance between 9" and 19".
9" 19"
No matter what orientation you choose, the lower pole must be positioned closest to the front inner corner of the passenger seat against the console/transmission hump.
*This mount is not compatible with vehicles that have seat hooks instead of bolts.
2. Console Clearance
Identify the inner seat bolt closest to the center console. The distance between the center of this bolt and the console must be at least 7/8". This spacing is important for up to 5" in front of the center of the bolt.
If you are using Orientation B from Step 1, the distance between the seat bolts and center console must be at least 5".
3. 90-Degree Seat Bolts
Your seat bolts should pass into the floorboard at 90-degrees from the floorboard surface.
Bolt direction may vary by up to 10-degrees, but any further variation will result in the Tele-Pole interfering with the dashboard or passenger seating area.
---
We Also Recommend