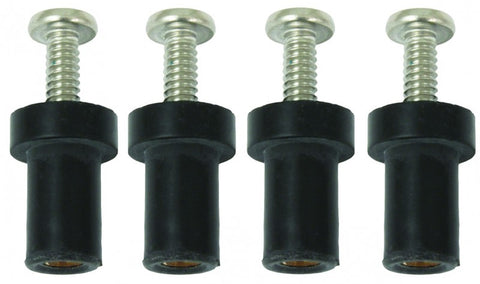 RAM-MARI-NUT-4U RAM Mounts Mari-Nut Rubber Expansion Brass Nuts (4 QTY)
RAM-MARI-NUT-4U RAM Mounts Mari-Nut™ Rubber Expansion Brass Nuts (4 QTY)
MUST BE UNOPENED AND UNUSED TO QUALIFY FOR RETURN
The RAM-MARI-NUT-4U consists of (4 qty) brass nuts with rubber expansion feature for blind hole mounting applications. Four screws are included.
Included screws are 1.25" in length from the bottom of the screw head.
Installation Instructions:
1. Locate RAM base to desired mounting location, drill holes with 3/8" drill.
2. Place Mari-Nut™ insert all the way into pre-drilled 3/8" holes until flange is firmly secured against mounting surface.
3. Align RAM base over Mari-Nut™ and 3/8" pre-drilled holes.
3. Pass INCLUDED machine screw through base to be fastened.
4. Tighten until snug.
Note: The "U" in the part number reflects product packaged in poly bag.
---
We Also Recommend