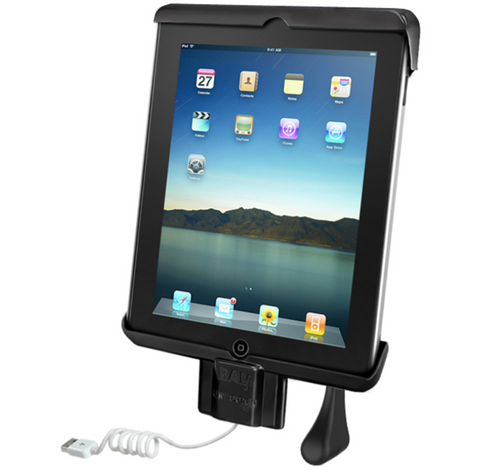 RAM-HOL-TABDL7U RAM Dock-N-Lock Spring Loaded Holder for Apple iPad 2 / iPad 3
RAM-HOL-TABDL7U RAM Dock-N-Lock Spring Loaded Holder for Apple iPad 2 / iPad 3 WITHOUT CASE, SKIN OR SLEEVE
MUST BE UNOPENED AND UNUSED TO QUALIFY FOR RETURN
Tab-Dock™ Dimensions:
Height: 8" minimum to 11.55" maximum
Width: Maximum to 6.8"
Edge Depth: Maximum to 0.50"
Compatible devices:
Apple iPad 3
Apple iPad 2
SPECIAL NOTE: Charging cable shown in photo and video is NOT included.
RAM products are renowned for their simple yet effective designs. The new RAM Tab-Lock™ with Uni-Conn™ for the Apple iPadis a perfect example of this. The RAM iPad locking dock features a unique patent pending design which enables the use of the factory iPad cables with docking connector for charging as well as other functions. Also works with most aftermarket cables and or modules with docking connectors. With the vast variety of available cable / docking connector accessories for the iPad you can quickly dock your iPad for charging, line out audio, external GPS antenna and much more. Spring loaded and equiped with a keyed lock, this compact yet durable cradle won't take up a lot of space yet provides loads of security. With the new Tab-Lock™ with Uni-Conn™, RAM lets you keep your tablet where it belongs...powered and in your possession.

Included is a set of four nuts and bolts to connect the cradle to any RAM components or mounts that contain the universal AMPs hole pattern.

The Tab-Dock™ cradle is compatible with any tablet that will fit the dimensions listed below. It is important to verify the dimensions of your tablet when determining the overall size.

Features:
1. Spring loaded for quick removal and insertion of tablet
2. Full access to all ports
3. Customize height of cradle for your tablet
4. Locking mechanism for theft deterrence
5. Unique patent pending design enables the use of the factory iPad charging cable with docking connector
6. Compatible with many other Apple Certified cable / docking connector accessories including docking connector modules
7. Quickly dock and undock your iPad without requiring the insertion and removal of the charging cable
8. Use the iPad in your vehicle, aircraft, boat, home, etc., for an all-in-one entertainment media solution
9. Perfect for business applications such as educational, medical, retail and much more

Popular Cable Accessories Available:
1. iPad Charging
2. DVI Video Output
3. Composite Video Output
4. HDMI Video Output
5. VGA Output
6. Audio Output
7. Enhanced GPS Module

Material:
High Strength Composite

Included with Purchase:
(1) Spring loaded locking back plate
(2) Support cups, one with Uni-Conn™ docking connector
(1) Uni-Conn™ docking connector cap
Mounting hardware

Note:
The "U" in the part number reflects product packaged in poly bag.



---
We Also Recommend