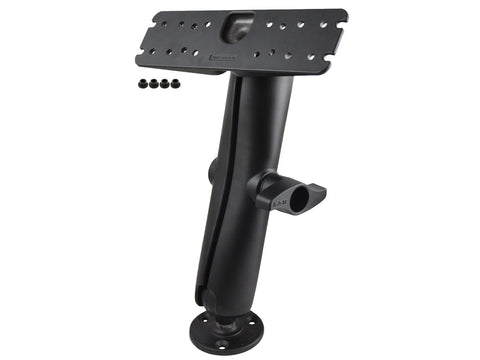 RAM-D-111U-E RAM Mounts D Size 2.25" Diameter Ball Mount with 3.68" Round Plate, Long Length Double Socket Arm & 11" X 3" Rectangle Plate
$ 18499

$ 184.99

Save $ 22
---
---
RAM-D-111U-E RAM Mounts D Size 2.25" Diameter Ball Mount with 3.68" Round Plate, Long Length Double Socket Arm & 11" X 3" Rectangle Plate
SPECIAL NOTE: This item is much larger in real life than it appears to be in the photos. Please be sure to see all measurements and weights listed in the description. ABSOLUTELY NO REFUNDS FOR FAILURE TO PROPERLY VIEW ALL SPECIFICATIONS. If you receive this item and it is too large for your project, no return will be allowed and no refund will be given.
The RAM-D-111U-E consists of a 3.68" diameter round base, LONG length double socket arm and 11" x 3" rectangular plate. The round base contains pre-drilled holes, including two holes at 180 degrees and three holes at 120 degrees. The rectangle plate contains different combinations of pre-drilled holes which will match up to many electronic devices and mounts, including Marine GPS, CB Radios, Ham Radios, Gimbal Brackets and more.
Weight Capacity:
Up to 15 lbs.
Material:
Powder Coated Marine Grade Aluminum
Ball Size:
2.25" Rubber "D" Ball Size
Note:
The "U" in the part number reflects product packaged in poly bag. The 11" x 3" rectangle base is a universal mounting bracket with a selection of mounting hole locations. In certain applications additional holes may need to be drilled for proper fit with your electronic device. THE RAM-D-111U-E features 2.5-INCH BALLS AND SOCKETS AND IS NOT COMPATIBLE WITH RAM MOUNTS B-SIZED 1-INCH SETUPS.
Weight:
5.5 lbs.
---
We Also Recommend