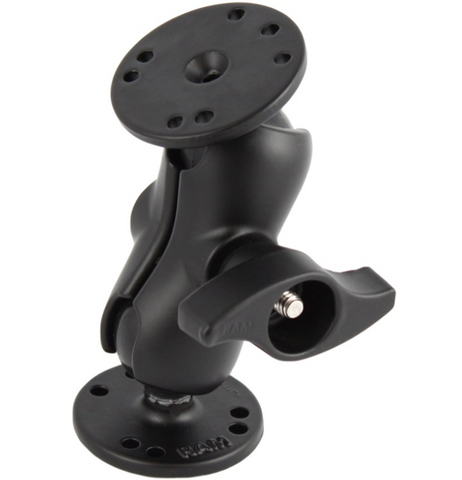 RAM-101MU-B RAM Mounts RAM C Size 1.5" Ball Mount with Short Double Socket Arm, Metal Knob and Two 2.5" Round Plate AMPs Hole Pattern
RAM-101MU-B RAM Mounts RAM C Size 1.5" Ball Mount with Short Double Socket Arm, Metal Knob and Two 2.5" Round Plate AMPs Hole Pattern

MUST BE UNOPENED AND UNUSED TO QUALIFY FOR RETURN.
SPECIAL NOTE: THIS PRODUCT FEATURES RAM MOUNTS C-SIZED 1.5" (ONE AND ONE HALF INCH) BALLS AND SOCKETS.
The RAM-101MU-B consists of a short double socket arm with metal knob and two 2.5" diameter round bases with the universal AMPS hole pattern. Designed into the mount is a 1.5" diameter patented rubber ball and socket system with adjustment points at both socket ends of the arm.
Rubber ball and socket technology allows for almost infinite adjustment and perfect viewing angles. High quality materials insure your device is safe, secure, and within easy reach. RAM's patented design also dampens shock and vibration helping to extend the life of your device.
Material:
Powder Coated Marine Grade Aluminum
Ball Size:
1.5" Rubber Ball Size
Note:
The "U" in the part number reflects product packaged in poly bag.
Weight:
0.94 lbs.
---
We Also Recommend