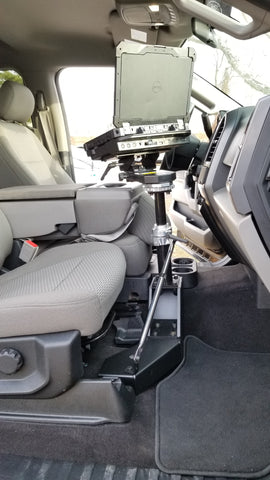 Havis PKG-PSM-385 Ford 2018-2021 Expedition, 2015-2020 F-150, & 2017-2021 F-250, F-350, F-450, and F-250, F-350, F-450, F-550 Chassis Cab
$ 76590

$ 765.90

Save $ 85
---
---
Havis PKG-PSM-385 Ford 2018-2021 Expedition, 2015-2020 F-150, & 2017-2021 F-250, F-350, F-450, and F-250, F-350, F-450, F-550 Chassis Cab
Ford 2018-2021 Expedition, 2015-2020 F-150, & 2017-2021 F-250, F-350, F-450, and F-250, F-350, F-450, F-550 Chassis Cab
2018-2021 Expedition, 2015-2020 F-150, & 2017-2021 F-250, F-350, F-450, and F-250, F-350, F-450, F-550 Chassis Cab
Premium passenger side mount package
For Ford 2018-2021 Expedition, Expedition MAX, Expedition Special Service vehicle, Expedition Special Service Vehicle MAX, Ford 2015-2020 F-150, F-150 Special Service vehicle, F-150 Responder
Ford 2017-2021 F-250, F-350, F-450, and F-250, F-350, F-450, F-550 Chassis Cab
Premium PKG-PSM package includes a Heavy-duty vehicle specific base plate, Heavy-duty pole with height adjust handle, swing arm motion device with tilt-swivel and stability support arm.
By bundling all of the necessary parts in one sku we have simplified the ordering process.
PLEASE CONTACT US TO VERIFY AVAILABILITY BEFORE PURCHASING
SHIPS TO UPPER 48 UNITED STATES ONLY.
PKG, BASE, VMT, HDM, F250, 17-21, F150, EXPD, 18-21,
For Ford 2018-2021 Expedition, Expedition MAX, Expedition Special Service vehicle, Expedition Special Service Vehicle MAX, Ford 2015-2020 F-150, F-150 Special Service vehicle, F-150 Responder
840056710740
---
We Also Recommend