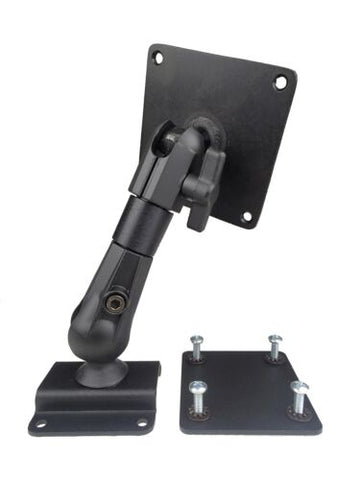 Havis C-MD-401 Universal Rugged Articulating Dual Ball Mount, 7" tall PRE-OWNED
* OPEN BOX ITEM. Customer return in excellent condition. The original packaging has been opened so we can no longer sell this item as new. Sorry, no returns on this particular item. Thanks for looking! *
Havis C-MD-401 Universal Rugged Articulating Dual Ball Mount, 7" tall
Works perfectly with the Havis UT-301
Product Details:
Provides an ideal mobile solution for tablet, phone or keyboard
One end mounts on any flat surface, while the other supports a device
Both ends easily adjustable, any position holds equipment steady
Both ends offer full range of motion: 210° tilt, 360° turn & 360° rotation
Lower ball (1.14"/29mm dia) requires tool adjustment, strengthens fixed position
Lower mount plate hole pattern: 2.00" x 2.06" (.213" holes)
Upper ball (.815"/20.7mm dia) has a knob for fine tuning device adjustment
VESA 75mm (2.95"sq) pattern for equipment mounting end
Recommended maximum weight carrying capacity 6 lbs., dependent upon orientation
Includes reinforcing back plate, hardware and adjustment tool
Back plate requires 3.00" x 3.00" clear area below mounting surface
Bottom requires 2.63" x 2.63" clear surface mounting area
Constructed of aluminum, glass fiber-reinforced composite plastic, steel
Rugged and durable, yet lightweight
Specifications:
Abbreviated Product Description:
ACTADP, HDM, POST, MNT, 7"
* OPEN BOX ITEM. Customer return in excellent condition. The original packaging has been opened so we can no longer sell this item as new. Sorry, no returns on this particular item. Thanks for looking! *
MUST BE UNOPENED AND UNUSED TO QUALIFY FOR RETURN
OUR REFUND POLICY: For new items, returns for UNOPENED products within the United States will be accepted within 30 days. Once an item is opened, it is not returnable. USED ITEMS (items sold as "open box" or "used") and INTERNATIONAL ORDERS are not returnable. Original shipping expenses are paid to the shipping carrier and are not refundable. We respectfully ask that when returning an item, please use the CORRECT AND TRUTHFUL reason for the return. We reserve the right to refuse ANY return when the item has been opened, used or a false reason was given for the return. We also reserve the right to charge a 15% restocking fee for any return that is used, damaged, missing packaging, has open packaging, or is missing parts.
---
We Also Recommend