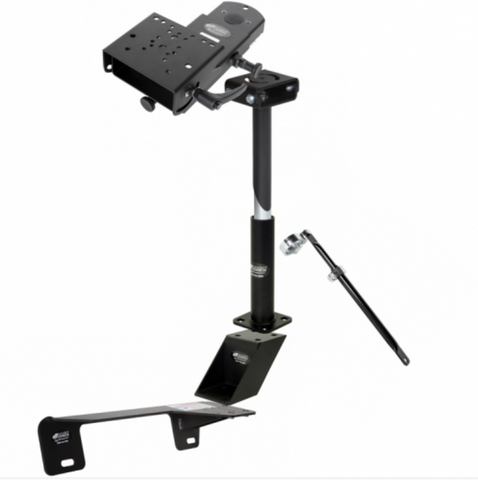 Gamber 2002+ Dodge Ram 1500-5500, 2008 Sterling Bullet 4500-5500 Pedestal System Kit 7170-0136
Gamber 2002+ Dodge Ram 1500-5500, 2008 Sterling Bullet 4500-5500 Pedestal System Kit 7170-0136
Compatible Vehicles:
Ram 1500-5500 (2002-2018 and 2019 Classic)
Sterling Bullet 4500-5500 (2008)
Kit Components:
Vehicle Base (Item No. 7160-0182)
Vehicle Base is a no-drill solution and attaches to the passenger side seat studs. Designed using heavy gauge steel for long-term durability.
 
Off set Universal Mounting Step (Item No. DS-STEP)
The Off set Universal Mounting Step moves the mounting system away from passenger leg space towards the driver.
 
Lower Tube (Item No. DS-LOWER-7)
The Lower Tube provides vertical clearance over the center console or the seat.
 
Upper Pole (Item No. 7160-0178)
Center Upper Pole allows for closer mounting to the dash and less stress on the vehicle mounting equipment as weight is centered on the pole. Wrench is needed for loosening, tightening or height adjustment.
 
9-Inch Locking Swing Arm - Mongoose (Item No. 7160-0220)
Locking Slide Arm can rotate around 360° with locking points every 15°. Slide Arm can extend out from 9" to 13" from center pole and locks automatically in the retracted 9" position. Motion Attachment has tilt capabilities up to 90° forward/26° backward and can be swiveled up to 360°. Motion Attachment works with VESA 75mm, Gamber-Johnson 2x4, NEC or AMPS hole patterns.
 
Support Brace (Item No. 7160-0230)
Support Brace provides additional mount system support in rugged driving conditions and reduces mounting system vibration.
Must order as is. There are no substitutions.
THIS PRODUCT SHIPS TO THE UPPER 48 UNITED STATES ONLY (NO INTERNATIONAL SHIPPING)
---
We Also Recommend